Nippon Kayaku's developed parachute system is adopted for Softbank's demo-test of drone logistics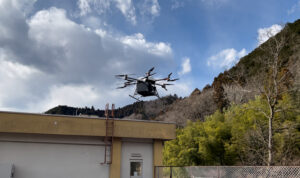 Nippon Kayaku's developed parachute system is adopted by Softbank's "Demo-test for drone's distribution to isolated areas that are assumed to be born by cut-off-roads in case of disasters", which was consigned from Tokyo prefecture.
【Outline of Demo-test】
<Test execution period>
From December 14, 2021 to January 20,2022
<Venue>
Flying each 2 routes within each Akiruno city, Hachioji city and Ome city, which means 6 routes in  all.
<Drone used in this test>
"FMC-01DASB", Made by Futaba corporation.
<Flight distance>
Approximately 2.2 to 7.0 km per route (A round-trip flight of a one-way distance about 1.1 to 3.5.km)
<Load weight> 20kg (10 PET bottles each containing 2L of water)
【Adopted parachute system of ours】
Product type:     PS CA12-01
Applicable weight:  Maximum total flight weight: 25kg(55lbs)
External Dimensions:  Φ130×H154mm
Weight:         930g (Parachute device) / 120g (Trigger device)
Parachute area:    11㎡
Descending speed(Theoretical Value):  6m/s (at use of total weight:25kg)
Parachute opening altitude:  30m〜150m
If you have any questions, please do not hesitate to contact us.
---
Picture data quoted from: https://www.softbank.jp/corp/news/press/sbkk/2022/20220329_02/