Report of exhibition at "Japan Drone 2022"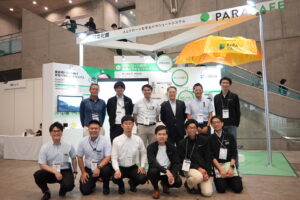 Nippon Kayaku exhibited PARASAFE® at "Japan Drone 2022" held during 21st and 23rd of June.
The venue was "Makuhari Messe", one of Japan's largest convention complexes located at Makuhari New City, mihama-ku, chiba city, chiba prefecture and it was held at the same time with "1st International Advanced Air Mobility EXPO(IAAM)2022".
Nippon Kayaku's booth exhibited "Parachute products", "Drones made by Aero Systems West" and played videos of"our company's branding" and "Tests conducted during development" on the monitor.
So many people came to our booth that all the brochures and novelty goods that we prepared had run out and it was a great successful exhibition.
As we will continue introducing our new developed products at exhibitions in various areas and industry types, we would like to continue announcements on this site whenever exhibitions are fixed.
If you have any questions, please do not hesitate to contact us.