Report of exhibition at the 1st Drone Summit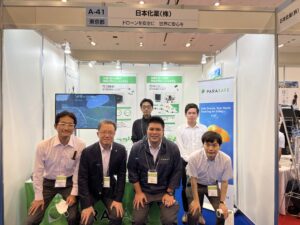 Nippon Kayaku exhibited PARASAFE® at the 1st Drone Summit, held during 1st and 2nd of September.
The venue was "Kobe International Exhibition Hall", one of Kobe city's largest exhibition hall and local governments
and related industries and others totaling  68 companies/ groups exhibited.
Nippon Kayaku's booth exhibited "Parachute products" and played videos of "our company's branding" and
"Tests conducted during development" on the monitor.
Also, we were especially able to exhibit our products at the booth of  New Industry Research Organization (NIRO) ,
and we were able to get the existence and effect of  safety device  for drone known to greatly many  people.
As we will continue introducing our new developed products at exhibitions in  various areas and industry types,
we would like to continue announcements on this site whenever exhibitions are fixed.
If you have any questions, please do not hesitate to contact us.