Nippon Kayaku Demo-tested Drone with Parachute and Air-bag aiming at Level 4 Flight Spread of drone.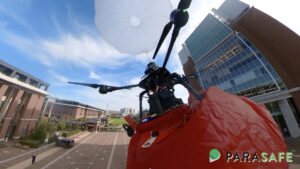 Nippon Kayaku conducted demonstration test of drone with parachute and air-bag on December 3, 2022, aiming at drone's Level 4 flight spread.
At the special test site of Kobe Gakuin University, we demonstrated a serial flow of dropping a drone mounted with the emergency parachute system for commercial drone "PARASAFE®︎ CA12-01″( Now available) and with the emergency airbag system for commercial drone(Under development) from the height of 30m and making an emergency landing using such parachute and airbag systems.
On that day, many people relating to drone visited us to watch the demonstration test, and also NHK-TV (Japan's public broadcaster) interviewed us.
As for the broadcasted content in NHK-TV, please refer to the following URL.
As Nippon Kayaku will conduct demonstrations of our developed products at exhibitions of many kinds of places and industries, we will continue to announce on this website whenever any schedule of demonstration is fixed.
If you have any question on parachute, airbag or other safety devices related to drone, please do not hesitate to contact us.