"Japan Drone 2023"; Exhibition Report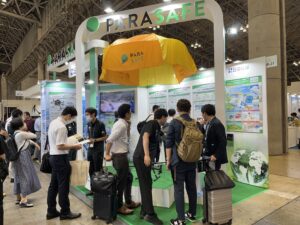 Nippon Kayaku joined "Japan Drone 2023" (June 26 to 28).
The venue was "Makuhari Messe", one of Japan's largest convention complexes located at Makuhari New City (Chiba prefecture), and there was a concurrent event: "2nd International Advanced Air Mobility EXPO 2023".
In our booth, we exhibited "ACSL type PF2-CAT3", which received the first Class-1 UAS Type Certificate in Japan and adopts Nippon Kayaku's parachute safety system, "ATS built-in small safety device concept model" for Matrice300RTK made by DJI  and the real parachute for those products.
Also, we showed "Nippon Kayaku's branding movie", "developmental test movie" and "NIRO2022's project report movie" on the monitor.
 
During the exhibition, over 1000 people visited our booth, and we made a great success.
As we will continue introducing our new developed products at exhibitions in  various areas and industry types, we would like to announce on this site whenever any exhibition is fixed.
If you have any questions, please do not hesitate to contact us.