Report of exhibition at 「Commercial UAV Expo 2023」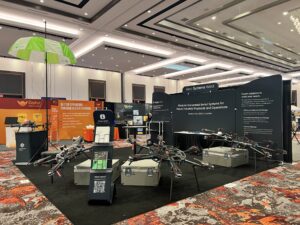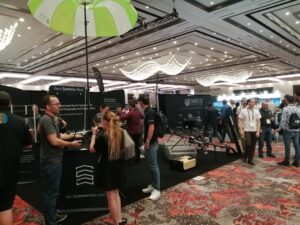 Nippon Kayaku's group company, Aero Systems West, Inc. (Hereinafter referred to as ASW) exhibited in "Commercial UAV Expo 2023" (Held from Sep 5 to 7).
It was held at "Caesars Forum", the convention complex at Las Vegas.
At the booth, we exhibited "4 models of Drone(ILM Quadcopter, HLM Quadcopter, HLM Hexacopter and HLM Octocopter)" and "the parachute device PARASAFE CA0601, CA1201 and 150kg Large size Parachute Device PARASAFE ARS150"
"HML Octocopter", a  large–sized drone whose maximum take-off weight is 72kg and the dorone with intefladed PARASAFE"ILM+PARASAFE:with opened parachute" were outstanding and drew  many visitor's attention.  So many people came to our booth and it was a great successful exhibition.
As we will continue introducing our developed products at exhibitions in  various areas and industry types, we would like to continue announcements on this website whenever any exhibitions are fixed.
If you have any questions, please do not hesitate to contact us.
ASW: Aero Systems West | Leading U.S. based Industrial Drone Manufacturer.
Quoted Image: Commercial UAV Expo | Expo & Conference on Commercial Drones (expouav.com)